Running a food business in 2022 is challenging. With staff shortages, Australia-wide, rising ingredient costs and overheads, food business owners are understandably ready to throw in the towel (or apron).

But what if there was a new way to grow your business, increase profits and reduce overheads along the way?
A batch model could be the answer to your profitability and administrative challenges. Cookaborough has helped power over 90,000 sales for hundreds of businesses across the country operating under this model and has seen this approach's advantages first-hand.
What is a batch model?
A 'clever batch' approach involves creating similar or identical products simultaneously in the production process and using the same equipment.
Predictable and consistent weekly orders
For a food business, this involves fulfilling orders all at once rather than the commonly used on-demand model. This involves releasing a weekly menu to your customers. Once customers place orders for the week, you will receive an aggregated shopping list to fill orders and can resource efficiently to meet these orders.
You know how much you need to cook before you begin cooking, allowing you to get ingredients and create minimal wastage efficiently. We call this Clever Batch – small batch, super-powered.
Get creative with your weekly menu.
Cookaborough's batch model means you will operate on a weekly rhythm, releasing a new menu to your customer base each week.
Maintain your creativity with complete flexibility to change your menu and offerings as much as you like. A weekly changing menu allows you to tell your story through food, keeping your customers engaged each week.
Increase your profits one order at a time
Not only does this make it easier to engage with your customers, but a weekly model also allows you to turn that connection into sales. Cookaborough sales data indicates that customers spend over $100 per transaction purchasing approximately four items in each transaction.
Unlike an on-demand model operating a weekly menu will encourage your customers to purchase multiple meals to get them through the week.
Reduce costs and overheads
A batch model allows you to increase profits by significantly reducing unnecessary costs.
Labour costs - Your predictable weekly rhythm means you can resource efficiently and effectively as you only will require kitchen assistance on designated preparation or delivery days.

Eliminate food waste - a weekly menu takes out the guesswork. Once your menu closes each week, your shopping list will detail everything you need to fulfil orders.

Rental space, your weekly meal business can operate from anywhere as your customers will enjoy your food from their homes. They are allowing you to harness the potential of your kitchen during less busy times of the day.
Connect with your customers
Cookaborough's inbuilt email functionality allows you to strengthen and maintain your connection with your customers.
Message them directly, send weekly menus and automated reminders to order, or create promotions. It's all in your hands.
Admin made easy
Local food business owners love Cookaboroughs ability to navigate numbers across all aspects of your business. Everything you need is accessible from the main dashboard pictured below.
Avoid the painstaking headaches of admin like combining spreadsheets, databases and shopping lists and let Cookaborough do all the crunching for you generating reports or your financial and operational needs.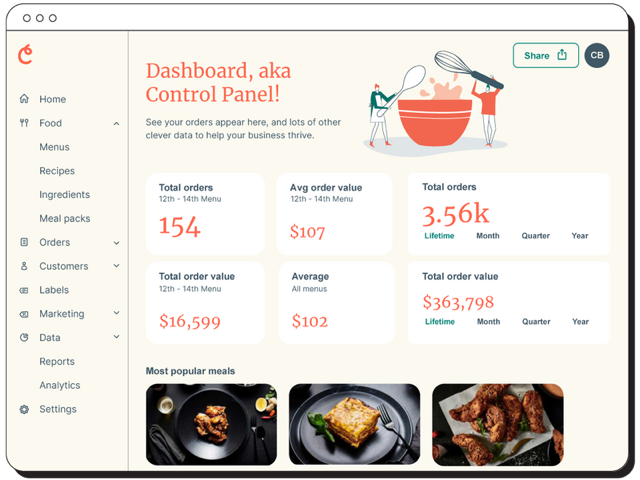 Labelling, sorted
We know your customers want to know what is in their meal. Using Cookaborough, you input your recipes, generating compliant food labels for every meal sold. Our database identifies key information such as ingredients, allergens, and nutrition facts adding your business logo to personalise your label. Simply print and pack and your customers will have everything they need.
Insurance - your covered
We know you want to ensure that you are covered if things go wrong. Cookaborough provides individual insurance policies specially customised to accommodate the needs of big and small food businesses.
Ready to get started? Start transforming your sales with Cookaborough - the only platform that allows food businesses of all sizes to start run and grow their weekly meal offering.
Get in touch with us below and our team will be in touch with you to help you start transforming your business today.