Are you looking to drive weekly sales and reduce your overhead costs? A ready-made meal offering could be just what your food business needs!

Whether you are a chef cooking from home, own a food store, are a caterer, or are simply starting out, we have pulled together the five steps you need to take to establish a profitable and reliable read-made meals business.
What is a ready-made meal?
If you already have a food business, you are likely familiar with ready-made meals, also known as prepared meals; these are meals sold to customers that simply require heating at home before enjoying.
With lifestyle changes, many busy households no longer have the time to cook meals each night, so they are turning to alternatives such as meal kits or ready-made meals.
We know 70% of consumers prefer to support local businesses and don't want to compromise on the quality of meals, creating a perfect opportunity for local businesses to develop their own weekly ready-made meals offering.
Would a ready-made meals business work for me?
Cookaborough has over 120 different food businesses of all different sizes and specialties using the platform to run their ready-made meals business, including:
Food stores - Often, food stores are already selling ready-made meals over the counter, so including a weekly menu is an easy introduction to maximise sales. At Cookaborough, we have seen this work well for local food stores, with some

maintaining 100 weekly orders

.


Caterers - If you are a caterer, you know that business comes and goes in waves. A ready-made meals option is a great way to maximise your kitchen and build a predictable and

profitable arm of your business.

Chefs & Artisans -

Turn your culinary skills into

a reliable business

. Whether you are a chef looking for what's next or an artisan baker with a bustling bakery, a weekly offering will engage your customers and keep them hungry for more.
Home cooks - We know that everyone loves a home-cooked meal. If you love to cook, running a ready-made meal business could be the perfect way to connect with your community and turn your passion into a career.

On Cookaborough, home cooks

enjoy between 10-30 orders per week, at around $100 per order, making for a lucrative side hustle.
So now you know if a ready-made meals business is for you, what's next? We have broken it down into five simple steps to get you started.
Step 1: Establish your weekly rhythm
The secret to a successful ready-made meals business is establishing a weekly rhythm. This is achieved by releasing a weekly menu to your customers. The menu opens and closes on a day of your choice, allowing you to operate under a batch model. Unlike an on-demand model, using a batch model enables a predictable weekly cycle for preparation, cooking, and delivery, allowing customers to develop a weekly habit of ordering.
We know that people enjoy ready-made meals during the week, so we recommend opening the menu later in the week, perhaps on a Thursday and closing it on a Sunday or Monday, allowing you to deliver your customers their meals at the start of the week.
Step 2: Get creative with your menu
Now you have established when your menu will open and close - it's time for the fun part. Get out your cookbooks and get creative. We suggest keeping your menus simple and keeping your customers engaged each week by rotating dishes and changing them up.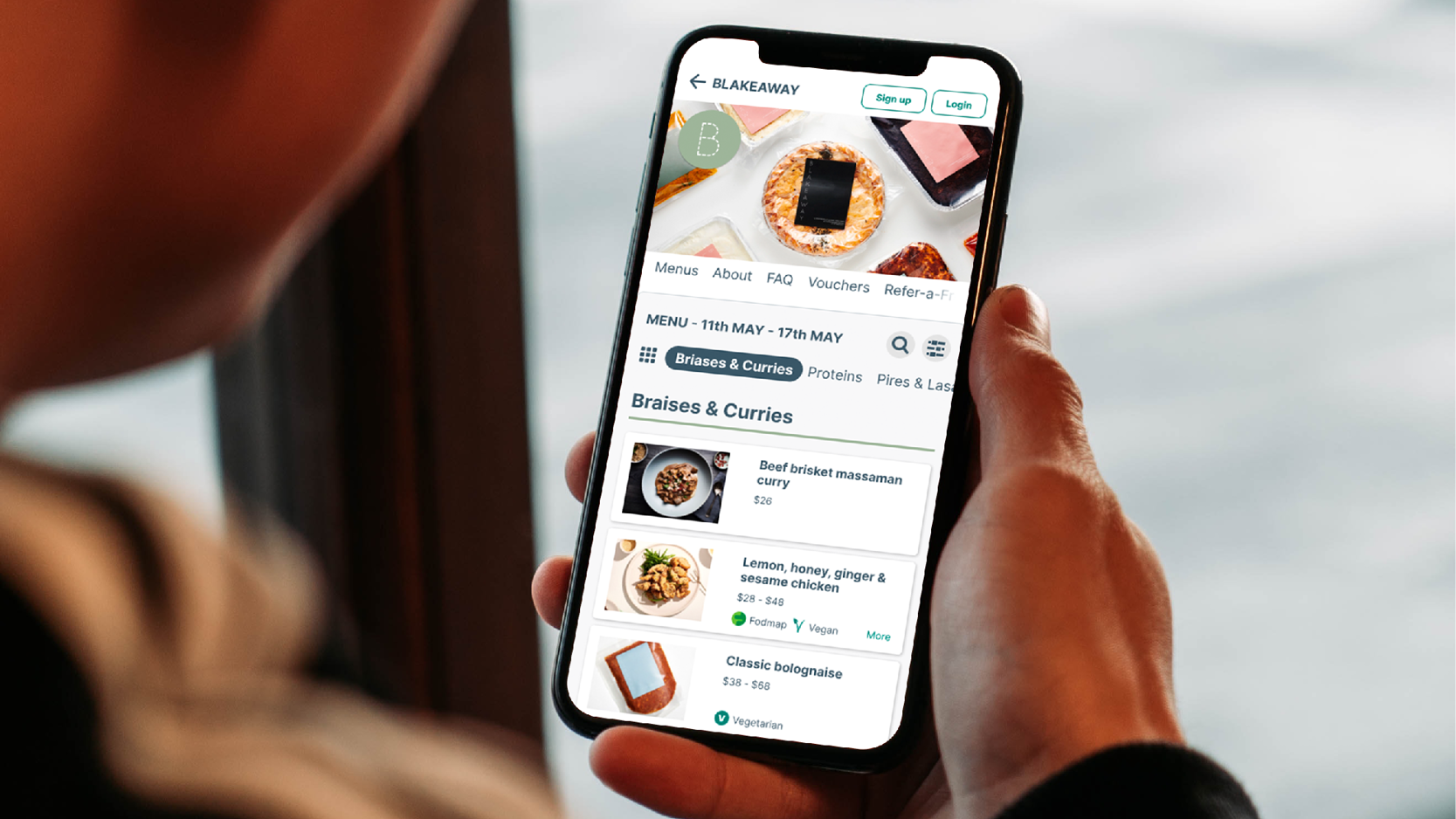 Step 3: Connect with your customers.
Once you have chosen what to feature on your menu, you can send it to your customers. Cookaborough's inbuilt email functionality makes this easy, allowing you to send your newly opened menu straight to your customer's inboxes with a personalised message. Share with them what's on the menu and why you chose to feature it.
Perhaps you're featuring an old family recipe that brings you back to your childhood or experimenting with a new ingredient you found at the markets. Get creative and send it to your customers, then sit back and watch the orders come in!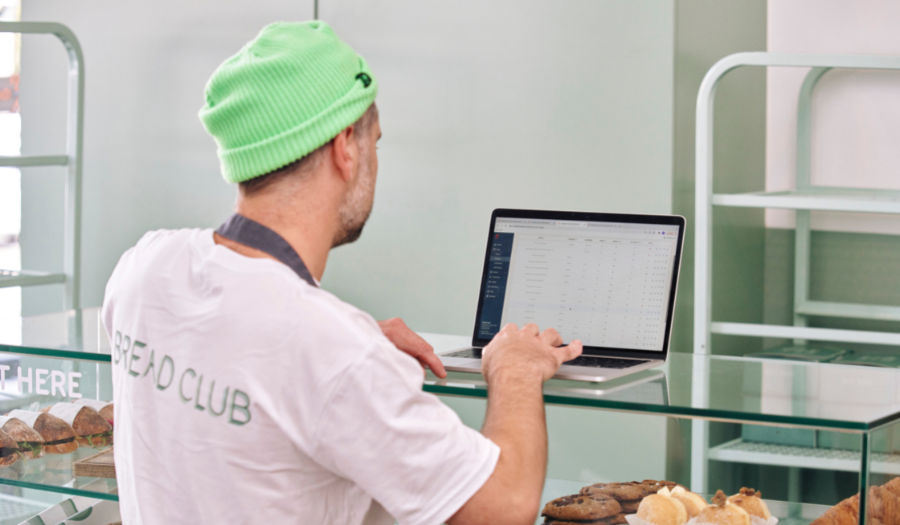 Step 4: Sort your financials and reporting
As a food business owner, we know you do your best work in the kitchen but can often end up spending your time stuck on admin. When running a ready-made meals business
Cookaborough allows you to manage all aspects from payments, providing order summaries for each order to allowing for exports to Xero - removing the headache of admin.
When creating your ready-made meal offering, keep in mind GST. A great benefit of selling meals this way is that some of your menu items may be GST-free. We have developed a handy guide here.
Step 5: Track your success and watch your business grow
The final step to launching your ready-made meals business is to track your success and watch your orders grow each week. Your Cookaborough dashboard makes this easy, summarising your total sales, the number of orders and best-selling items. See how it looks below.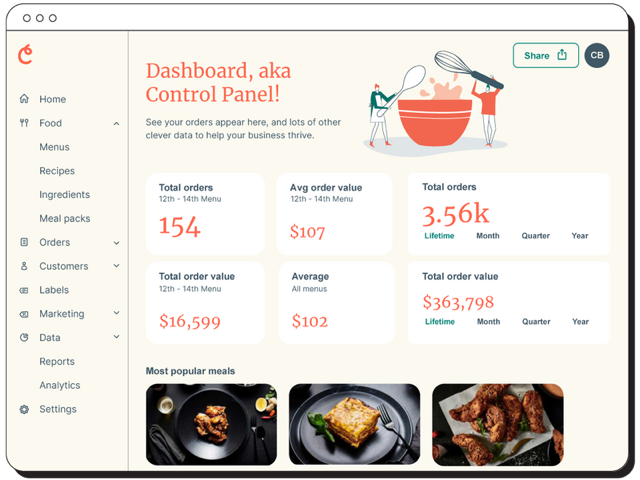 So there you have it, in five simple steps, your ready-made meals business can go from an idea to a profitable source of income. Yes, it really is as easy as pie!
We are here to help you with your ready-made meals business. Get in touch below, and we can help you start generating sales and connecting with your customers today.