Are you looking to connect with your local community and promote your food business? Facebook groups could be the answer you need.
Facebook groups are a great way to:
Increase awareness of your business

Connect with your local community

Keep up to date with the latest wants and needs of your customers

Grow your customer base

And, of course…drive sales!
This guide contains everything you need to know about using Facebook groups to promote your food business.

Contents:

What is a Facebook Group?

How can Facebook Groups help me grow my food business?

Joining a Group

Writing your post

Success story: For the Love of Food

Key takeaways
What is a Facebook group?
Facebook groups are places to communicate shared interests with a group of people. These spaces are all about communicating with others about anything from shared interests to community notices, allowing members to share posts, photos, videos and even create events.
Anyone can create and manage a group, including business or personal accounts, some groups let anyone join, but others might be private. Only the creator of a private group, and anyone they make an admin, has the power to invite someone to a group. But don't worry, you can request to join.
Facebook groups vs. Facebook feed
Are you seeing lots of posts from groups in your Facebook feed? This is no coincidence! Facebook prioritises posts from groups in the newsfeed. You may also have noticed that your Facebook company page posts seem to get a low response. Yep, you guessed it, that's the Facebook algorithm, too. Currently, company page engagement rates have been declining.
Although organic reach is declining, Facebook groups are a brilliant way to reach customers without being confined by the platform's algorithm. Groups are highly engaged and are all about connecting with others. As a result, posts on private Facebook groups tend to garner high engagement, creating a perfect environment for promoting your business.

How can they help me grow my food business?
So now you know how powerful groups can be; how do you go about starting to use them to help find new customers for your food business? Although it is tempting to find a group straight away and start posting, there are a couple of things to consider first.
What type of group is right for your business?
To promote your business, you need to find a Facebook group that contains potential customers. Any individual or business account on Facebook can create a group meaning there are hundreds and thousands of groups out there, but only a select few are right for your business.
When searching for groups to join, consider the geographical location of the members and their interests.
Start by typing in your location in the search bar and select groups on the left.
All groups in and around that location will appear on the right. Take some time to look through the groups in your area. If you are looking for a group about promoting and connecting small businesses in your area, try searching for 'support local [suburb]'. or 'local recommendations [suburb]'.
The best place to start is the local area that your food business services. Look for a local community notice board, these type of groups tend to have sizeable engaged audiences.
TIP -

Some groups do not allow businesses to promote within them. Try to join groups that specifically support small businesses.



Another factor to consider when searching for a group is member interests. The most common reason people join a group is if they share a common interest. Many Facebook groups exist specific to shared food and dietary preferences. These groups' primary focus is sharing recommendations, so gaining access to these engaged audiences can be a game-changer if your food business caters to these preferences.
Some examples of these interest-based groups include:
Australia's Gluten & Celiac/Coeliac Support Group
TIP - Search for specific dietary requirements you cater to and the location you service for example, Kosher Food Melbourne.
Joining a group
Once you have found a group that aligns with your business, it's time to request to join. You first need to click 'Join Group'', many groups are private, and to join, you must gain approval from a group administrator.
When you request to enter a group, you may be able to join on your business page. However, Facebook groups often do not allow business accounts to enter as many groups value connection and discussion, rather than the group being a space for advertising.
When you click Join Group if the group allows you to join from your business page, it will ask you to select how you would like to join, either as your own personal Facebook profile or as your business page.
If there's no option, the group only accepts personal accounts as members, meaning your posts will come from your profile not your business page. Some groups will still allow you to promote your ready-made meals offering via your Cookaborough Kitchen Page. However, these will come from whichever account was granted entry to the group whether it was your own account or your staff members.
TIP -

Join a couple of groups that might suit your business and take some time to get used to the types of posts within the group rather than posting straight away.



Once you have requested to join a group, you will often be required to answer a couple of questions. Try and include as much detail as possible about yourself, your business and your motivations for joining the group. If you join a community group, you may also need to share your postcode.
Familiarise yourself with the rules
Usually, when you request to join a group, there will be a list of rules that members must follow. Take time to familiarise yourself with these rules, as they usually have guidelines on how members can promote their businesses. Failure to follow the group's regulations can result in an admin removing your account from the group.
Check if you need to Message an Admin
Once a group admin has approved your request to join (sometimes this can take a few days), you can start planning how to promote your business in the group.
Some groups have regulations around posts that promote businesses and sometimes require admin approval. If there are no restrictions, feel free to skip this step.
If required, before posting reach out to a group admin. Let them know what you hope to share and ask for their approval. You can find the admins by clicking on members at the top of the page. When messaging an admin, share how your service will directly benefit the community. If you offer NDIS make sure to let them know.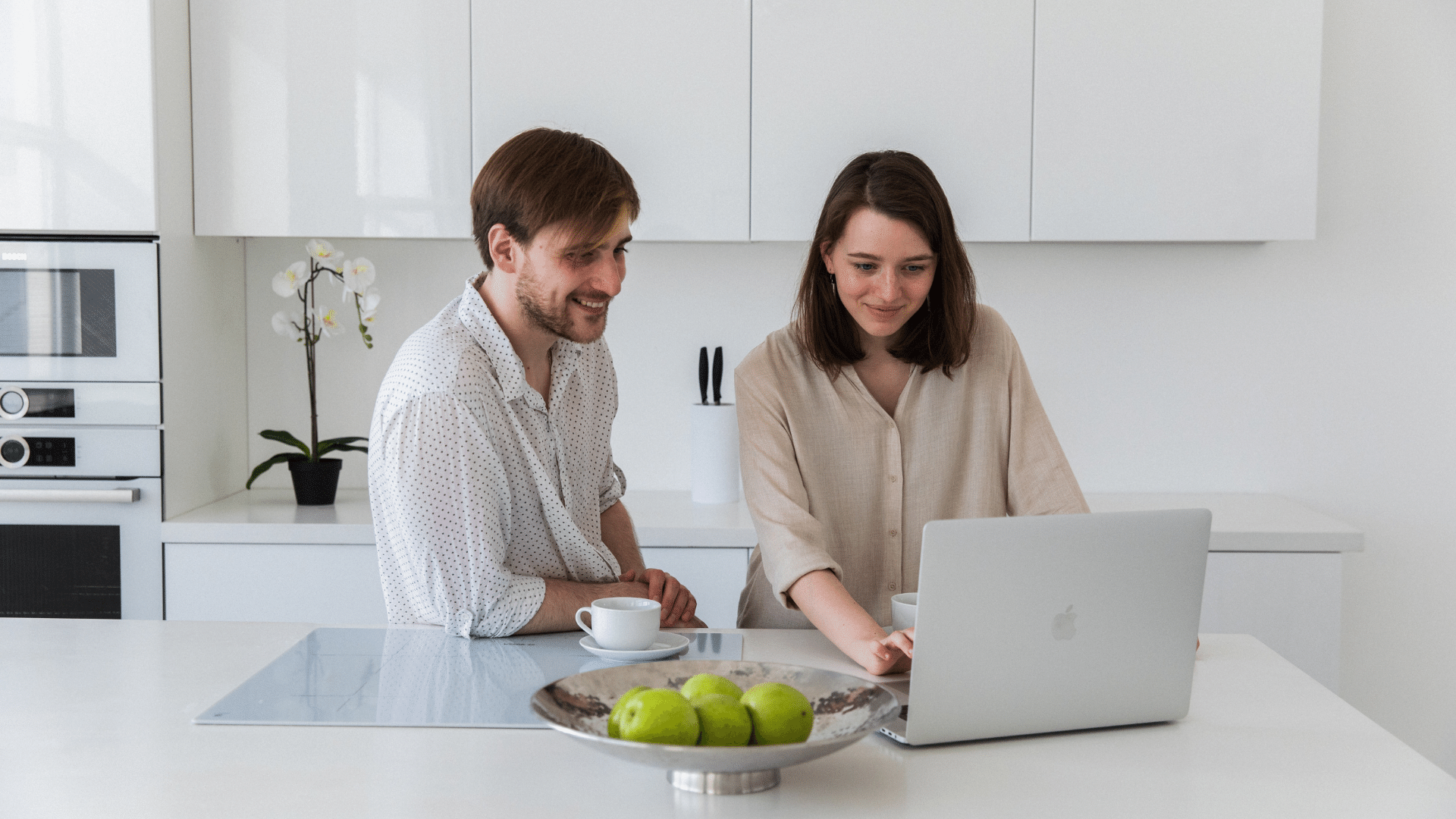 Writing your post
Now that we've got the rules out of the way it's time for the fun part, writing your post. Don't overthink it, get creative and be yourself. These pages are all about connection, so be authentic and share your story.
We suggest including the following in your post:
Introduce yourself, and your business
How long have you been operating your business, and what inspired you. ie. I have been running Jamie's Kitchen for five years since I decided to leave my job as a private chef on cruise ships.
What is your offering? ie. Weekly ready-made vegetarian meals
Who is it for? ie. busy households, NDIS clients, people who live in Geelong
When to order? ie. My menu opens on a Saturday and closes on a Wednesday.
Delivery options
What's on the menu
Most importantly: How to order, include your Cookaborough Kitchen link with a call to action such as 'order here'.
Any special offers. ie. Get 10% off your first order with the code YUM10
Make sure to always include some images of your food.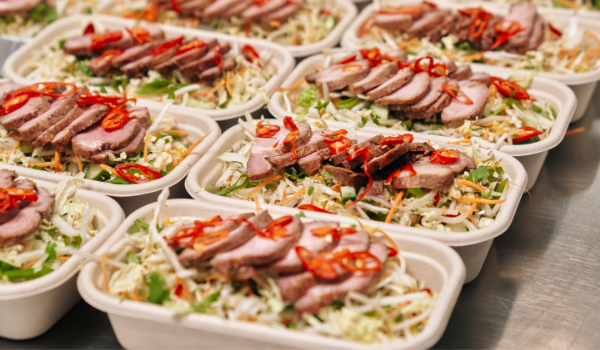 Feel free to copy and paste the below to get started.
Hi my name is [insert name] and I run [business name] a registered [type of business]. [Business name] provides weekly [your offering] to [your customers]and [we are an NDIS provider].
I have been cooking since [year] and love to provide [what you love about being a business owner]. I was inspired by [your inspiration].
We provide [delivery and pickup] on [delivery day] in the local area. Our menu opens each [day] and closes on [day].
This week on the menu we have [describe a few of your weekly menu items]. You can place your order here [add a link to your Cookaborough Kitchen Page]
Thank you for supporting my small business.
[your name]
Success story: For the Love of Food
Food business owner Ally operates her weekly meal business 'For the Love of Food' from her home. To spread the word of her offering, she recently posted the below on a local community page.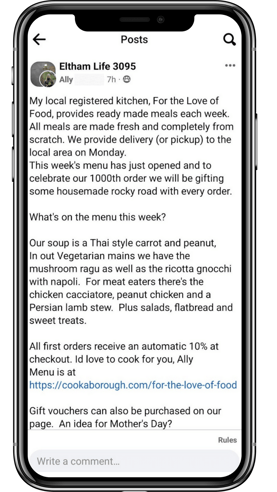 Results
After posting Ally received her biggest week of orders doubling her usual weekly orders and gaining 16 new customers. In the weeks following Ally saw an increase in her regular weekly orders. Her post received a positive response from the community gaining over 60 likes.
Get involved in the community
Now that you have made your first post in a group, you are just getting started. Make sure to include communication within the group as part of your ongoing strategy at promoting your business. This could include sharing your weekly menu or simply joining in on the conversation.
Get involved in the community by reacting and commenting on posts. Through remaining active in the group you will also gain valuable insights into what is important to your potential customers.
TIP

: By replying to your comments, your post will keep moving to the top of the Group Feed so make sure you respond to anyone liking or commenting on your post!
Key takeaways
Do your research
Take time to research Facebook groups in your area that aligns with your business offering.

Make sure you know the group rules inside out.

Join the group and pay close attention to the types of posts appearing in the group to gain ideas of what to share.
Build a connection
Take a considered approach when joining a group, making an effort to become part of the community.

Reach out to admins ahead of posting if required.
Share your story
Be yourself and be authentic, letting the community know who you are and how your business can help them.

Make it easy for customers to place an order, always include your Cookaborough kitchen link.
There you have it! As you look to find new customers grow your business, and connect with your community, Facebook groups are a free and easy strategy to throw into the mix.