In any service industry there are common questions asked, and it's worth addressing them ahead of time so customers have the answers they need to feel comfortable placing orders.
FAQs are also a great way for customers to learn more about you and your kitchen, and to find information that will improve their experience purchasing from your food business.
How to write your FAQs
To get started, think about the questions you're most often asked and how your customers tend to phrase those questions. It can be helpful to look back through old customer emails and make a list of popular queries that come up, and note how you often respond to them.
When you're writing your FAQs, imagine that you're speaking directly to a customer. When phrasing the question, think about how your customer might describe something and use their language as much as you can, so it's clear you're listening.
Structure your FAQs as:
Q: Customer's question
A: Your answer to that question
Write short and simple answers, so customers can scan the page to quickly find and understand the information they're seeking. By all means, show your personality but balance creative license with clarity until you get a short easy-to-read answer.
Keep your FAQs up to date
Maintain your FAQs regularly and update them if your business operations change. We recommend making a diary note to review your FAQs every few months.
It's good practice to capture customer questions you receive via email, text, verbal conversation or through a website inquiry. We recommend starting a list with a tally next to each question, to capture the number of similar inquiries over time. You can use this to review your FAQs over time and if you notice you're receiving questions on a topic you haven't yet covered, add new FAQs from your list.
What types of FAQs should you include?
Here's a list of typical questions people ask food businesses on Cookaborough. Feel free to use these FAQs and edit them to fit your needs, or add custom FAQs specific to your food business.
Cookaborough FAQ examples:
Q: How do I order?
A: Order via our Kitchen page at [address]. You'll need an account to place orders online. To create an account, select the 'Sign up/Login' button located at the top of our Kitchen page and enter your details. Once you've signed up, you'll receive our new menu via email from us each week. You can unsubscribe at any time.
Q: When can I order?
A: Our menu is open for orders from 8am Wednesday to 11pm Friday each week. Closing our menu each week gives us time to source the highest-quality ingredients for your meals, then prepare and cook each item from scratch.
Q: When will I receive my order?
A: Mondays. Pick up is between 4-6pm and delivery is from 4-7pm.
Q: Do you have a minimum order value?
A: You can order as much or as little as you like. However if you wish to receive your order via delivery, then a minimum order value of $60 applies.
Q: Is there a fee for delivery?
A: Delivery is free for orders over $150. If your order is under $150, we charge a small $10 delivery fee.
Q: Can I choose my delivery time?
A: Unfortunately, we're unable to accommodate specific delivery time requests at the moment. Our delivery window is from 4-7pm every Monday. We do give you a heads up on when your delivery will arrive - you'll receive a text when our driver is on his way.
Q: Do you provide a list of ingredients and allergens?
A: Yes, each meal lists every ingredient and highlights any allergens in that meal. You can view the full list of ingredients and allergens for each item on our menu by clicking on the item's image. All ingredients and allergens will also be listed on the label when the meal arrives. Please note, although our meals may not highlight specific allergens, we are not a completely 'allergen free' kitchen.
Q: Do meals come with serving instructions?
A: Yes, each meal comes with a label that describes preparation, storage and heating instructions. Food labels also state all ingredients and allergens.
Q: Can I buy a gift voucher?
A: Yes, you can, by visiting our 'Vouchers' tab. Vouchers are available for $50, $100, $200 or customisable amounts. When you purchase a voucher, you'll receive it via email.
Q: Can I order a meal for someone else?
A: Yes, we have a gift order option available if you wish to order for someone else. You can leave a note with your gift in the notes section of your order and we will include it with the delivery.
Q: What's your approach to sustainability?
A: We love the earth and we feel grateful we can turn its gifts into delicious meals! We use home compostable packaging wherever possible. The aluminium foil trays and sheets you may receive are really valuable to recycling companies so please give the trays/sheets a rinse and place them in your recycling bin. We strive to be as eco-friendly as possible – we use recycled foil when we need to for cooking with, recycled baking paper and Great Wrap non-plastic food wrap. We also compost any produce off-cuts we have, and we reuse or recycle any packaging our ingredients are delivered in.
Q: How can I contact your kitchen?
A: To contact our team, call us at [phone number], or [email address]. We are always happy to help.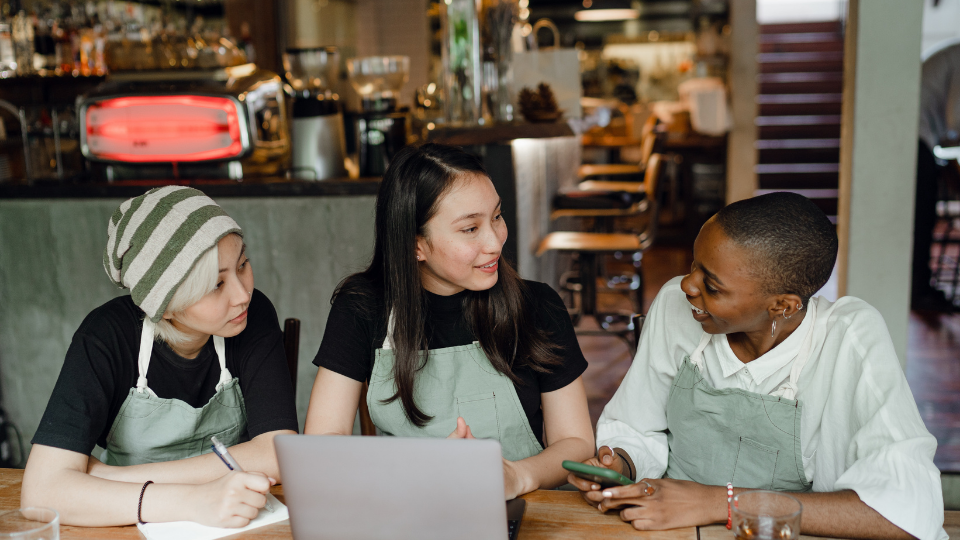 Need some more inspiration ?
Check out some great examples of cooks who have added FAQs to their Kitchen page.
Blakeaway - Felicity Kitchen's - For the Love of Food
How do I add FAQs to my Cookaborough

Kitchen page

?
To add FAQs to your Cookaborough Kitchen page:
Select the Settings gear icon from the side navigation.
Go to the Kitchen page tab.
Scroll down to Frequently Asked Questions.
Tick the Show FAQs on Kitchen page checkbox.


First, write your FAQ description. Keep it simple - for example:
Everything you need to know about [your kitchen name]
or
I'm so glad you've visited my kitchen page. If you have any questions, please don't hesitate to get in touch at [your email address].
Then, select Add question to start adding FAQs to your kitchen page.
Once you have completed and saved your FAQs, they will appear on your Cookaborough Kitchen page. You can add, delete, and edit your FAQs at any time via your Settings page.
TIP: DON'T FORGET TO SAVE AS YOU GO, BY CLICKING THE SAVE SETTINGS BUTTON AT THE BOTTOM OF YOUR KITCHEN PAGE.
Need more help?
Online: Check out the 'Learn' tab on the Cookaborough home page for more information.
Email: If you have further questions or need assistance, contact our team.