Cookaborough: the only e-commerce solution for food businesses.
It's easy to run a thriving prepared meals business with Cookaborough.


We often get asked what the difference is between Cookaborough and e-commerce platforms such as Shopify, Wordpress, Squarespace or Wix.
These other platforms are amazing, we agree! They service a range of industries by providing tools to build online shopfronts and content-driven websites which they do well. If you have a product or service to sell, these e-commerce solutions allow you to do this easily.

However, if you are a food business selling already-made meals or take-home meals, it's likely, these platforms don't do everything you need them to do, and you're relying on additional tools and add-ons to manage your business.

Managing your business using a standard e-commerce solution will likely result in time-consuming and manual work, slowing you down and taking away some of the joy from running your food business.


Enter Cookaborough…
Cookaborough was specifically built to help cooks and food businesses to start, run and grow their ready-made meals business. With features specific to the requirements of food businesses, Cookaborough is a one-of-a-kind solution and is the perfect fit for any size ready-made meal business.
We know it's challenging to run a ready-made meals business.

People tell us that although they love pursuing their passion, their business consumes a lot of time. Before joining Cookaborough, many business owners spent large parts of their week preparing menus, responding to customer order messages, reconciling invoices, calculating shopping lists, creating food labels, and working out delivery routes.
Often, this work involves multiple applications or tools, which become tiresome and expensive to maintain.

If this sounds familiar, and you're looking for an easier solution, read on to find out how Cookaborough can help with a new and better way to do business.
We listened to Food Business owners then we built the solution.

When creating Cookaborough, we worked with home cooks, caterers, food store owners and online food businesses, spending time in their kitchens and cool rooms, going shopping with them, and sitting around the kitchen table talking to them.
First, we made sure we understood their needs and then we built the platform they've needed all along.
An online platform with everything you need to start, run and grow your business.
Cookaborough helps you streamline your business model for success and takes the legwork out of running your prepared meal business, so you can focus on doing what you love.

Cookaborough enables your business to...
Connect with Customers
Create menus - Quickly and simply create and schedule beautiful looking weekly and event-based menus that will be sent directly to your customers to order from.


Send reminders - Send automated reminders to customers who have not placed an order on this week's menu. This feature alone has driven a 30% increase in sales for some businesses.


Service NDIS and HCP Customers - Access under-served markets such as NDIS and HCP participants. Cookaborough has functionality that enables local food businesses to serve these customers, something which has not previously been possible.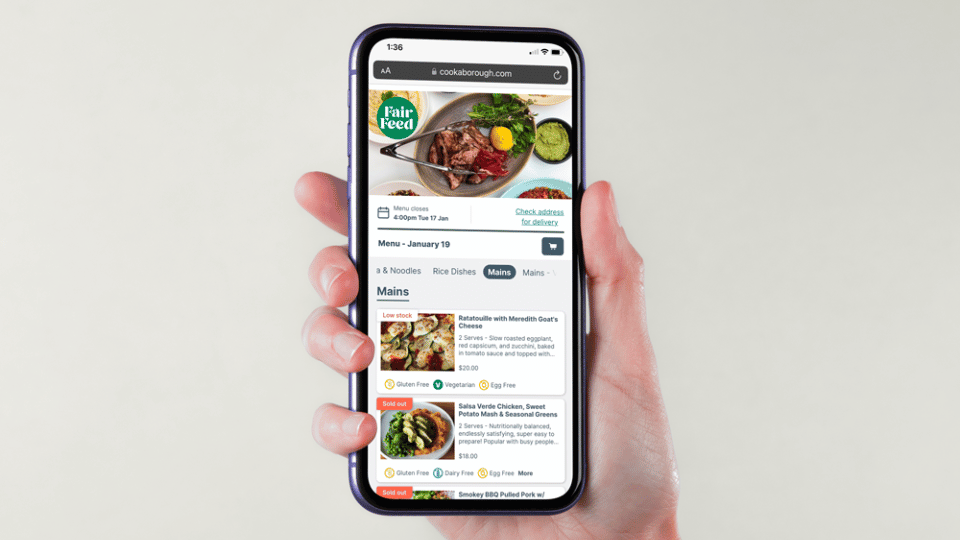 Optimise your business operations.
Automated Shopping Lists - Receive automated shopping list with the exact ingredient requirements based on the sales from each menu, so you no longer need to calculate what to buy manually.


Food Labels - Generate food safety-compliant food labels with ingredients and allergens identified.


Nutrition Panels - Generate nutritional information panels for each meal serving. These are automatically generated and displayed on your menu and printed to label your meals.


Delivery routing - Easily manage your deliveries with a fully integrated routing system that maps your deliveries and allows you to send automated customised delivery updates.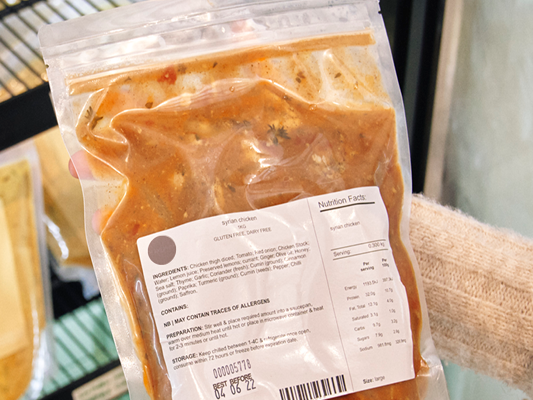 Increase revenue
Save on GST - You might be paying GST on items that don't require it. We've saved businesses thousands of dollars by breaking down the rules on taxable food items, and building our platform with GST tracking on an item-by-item basis to ensure you never pay unnecessary GST




Increase Productivity - With all the features you need in one place, you'll consolidate your expenses using a single platform that saves you time and helps you grow sales.

FairFeed switched to Cookaborough and experienced an 18% increase in their average order value
Tom Jacobson switched his business FairFeed from a Shopify website to Cookaborough and immediately experienced the benefit of significant time savings via operational efficiencies and the power of having a complete end-to-end solution for his ready-made meal business.
"Cookaborough has been great for FairFeed, helping us achieve important efficiencies, saving us time and helping us to grow our business". - Tom Jacobson, FairFeed
Foodstore owner Kelly switched to Cookaborough and watched her sales soar
Kelly Eastwood runs a food store: Eastwoods of Bermagui. Since Kelly switched from Shopify to Cookaborough she has been able to maximise her team's efficiency in fulfilling over 100 orders each week.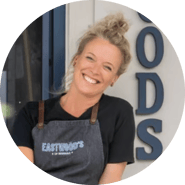 "I love many things about Cookaborough, including knowing what we need to buy; rostering and wages as I know exactly what we are in for; connection with my customers; cut off time for ordering." Kelly Eastwood, Eastwood's of Bermagui
Claudia switched to Cookaborough and reduced her overhead costs.
Claudia runs the prepared meal arm of her business; Dinner is Served, using Cookaborough. Previously she relied on multiple software solutions, but with Cookaborough, she can do everything in one place.

"Our decision to switch to Cookaborough remains one of the best business decisions we've made. We were immediately able to cancel our email marketing platform and our food labelling software, saving us thousands of dollars. It is easy to use, even for those with no technical expertise and it has clever, well-thought-out functionality." Claudia Lawrence, Dinner is Served
Aren't there other e-commerce platforms out there?
There are many great "one size fits all" e-commerce platforms that work well for certain types of businesses but not others. Cookaborough is the only platform built with food businesses in mind and is the only platform with end-to-end support. Why settle for anything less when you can have exactly what you need?
Switch to Cookaborough
It's fast and easy, and you'll have the support of a dedicated account manager who will get you up and running.

Fill in the form below for a tour of Cookaborough and a chat with one of our dedicated account managers. We'd love to help your food business succeed.