The NDIS and HCP programs help improve the quality of lives of people with disability and senior Australians.

Are you looking for more ways to reach customers, and service, and support your local community? This resource contains everything you need to know about how the NDIS (National Disability Insurance Scheme) and HCP (Home Care Packages) government-funded initiatives can work for your local food business.
What are the NDIS and Home Care Package initiatives?
HCP and NDIS plans are government programs designed to help people with complex needs.
The HCP is a government program designed to help Senior Australians access at-home assistance in a range of areas such as personal care. This care can include home modifications and support, such as receiving regular ready-made meals.
Similarly, NDIS is a government initiative that enables people living with a permanent and significant disability to access support and services.
Like the HCP, funding from the NDIS helps people living with a disability establish and fulfil personal goals. The focus is on supporting people so that they can be independent and participate in community life.
How can local food businesses get involved?
A crucial aspect the government considered when designing both programs is the role that high-quality, nutritious meals play in the well-being of participating individuals. Recent Royal Commissions into the disability and aged care sectors echoed these sentiments and highlighted the often poor quality of meals participants receive.
Both programs allow participants to source their own meal solutions and make the most of the program's financial incentives improving the quality and variety of meals available.
There is a misconception that only selected accredited food businesses can provide these services, which is not the case. In fact, any food business can participate in the scheme, providing they meet specific regulatory requirements.
What are the regulatory requirements?
To ensure that both programs are conducted with integrity and not taken advantage of, the government has adopted regulatory requirements that must be followed. These include:
Ensuring that participants receive quotes
Invoices issued in an approved format
That a third party oversees the transactions.
Before Cookaborough, businesses often saw these requirements as too prohibitive - making it difficult for small, local businesses to serve their communities. This challenge often results in the larger food manufacturers dominating the space
How Cookaborough helps
After working with various food businesses and participants to gain a comprehensive understanding of the programs, Cookaborough has developed a solution that automates the regulatory process allowing for a seamless experience for the food business, the participant and the plan manager.
This has been achieved by:
Automatically generating customer quotes for sign-off by all parties
Streamlining the ordering process, whether that be via the customer online or over the phone
Only charging the customer 30% of the cost of the meal and issuing an invoice to the plan manager for the remainder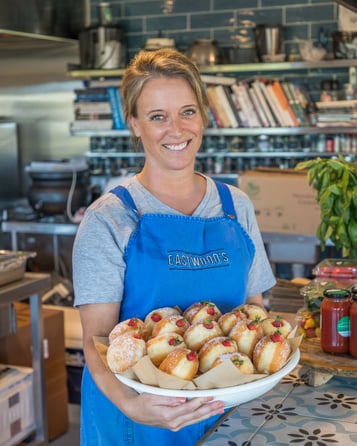 "I get so much joy from providing meals for the aged care and people with disabilities of the South Coast. I was mortified to hear some of the stories of what they were making do with before they started using us. We have formed a close connection with most of these customers, which gives me great joy. It wouldn't be possible if it weren't for how Cookaborough does all of the admin, as it would be a nightmare otherwise."


-

Kelly, Eastwoods Bergamui, NSW.
Feeding nourishing meals to those who need them
Our goal is to make it as easy as possible for local food businesses to service their community members who are utilising these programs and want access to high-quality local meals.
We have heard many unfortunate stories of customers with sub-standard meal options to choose from despite having excellent cooks in their community. At Cookaborough, we have seen the impact of quality meals and the strong community connection that can grow through sourcing locally.
"We had dreaded the thought of having to use second-rate a more commercial supplier, and Kelly's mob saved us from that. I really look forward to Friday when some happy person full of smiles drops off the week's supply. Though I had ordered each dish with care I am still surprised, and we hurry to find what's there for e the week. The great benefit of a declining memory is that each week is new! Even when we moved to Bega, Eastwoods was still next door (or so it seems). With our age package we have to pay for only the food component, which comes to 30%, ad that is set up on the site so it tales minimal organisation to ensure a week of fine tucker."

Eastwood's HCP Customer
The opportunity for your food business
The NDIS and HCP programs are growing, and meals are always likely to be a key component. There are over 500,000 participants in the NDIS and 150,000 in HCP, and all indications are that they will grow significantly.
Due to the nature of the relationship, these customers are more likely to order multiple meals and repeatedly place orders each week. As they are also only outlying 30% of the actual cost of the meals, they are generally not as price sensitive as others.
For many cooks using the Cookaborough platform, these programs are a key area of growth for their business. Not just because of the additional revenue but for the reward of uplifting the quality of life for people in their community.
Ready to get started? Fill in the form below, and our team will be in touch to help you begin to make the most of these meaningful opportunities presented by NDIS and HCP initiatives.