Broad bean, asparagus & soba noodle salad by Alice Zaslavsky
This delicious recipe was provided by award-winning author, broadcaster and 'Vegelante', Alice Zaslavsky. This recipe appears in her new book The Joy of Better Cooking.
Broad bean, asparagus & soba noodle salad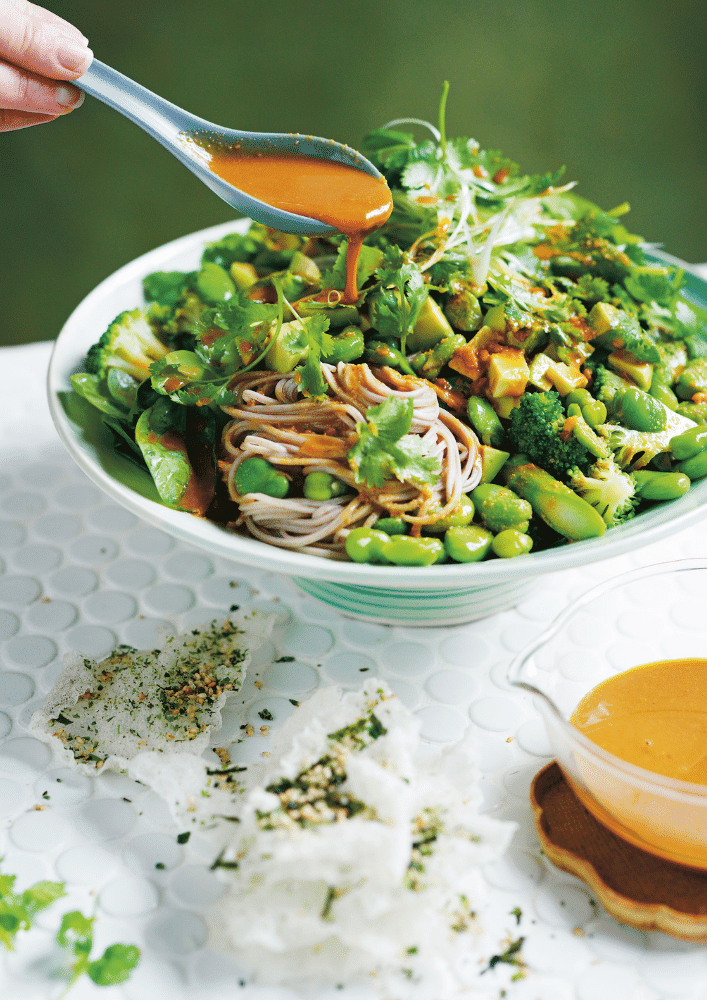 Cold noodles, crispy rice paper wrappers – toss these textures on their heads with a bit of kitchen science. Shocking the noodles in boiling water keeps their texture tout, not slimy, while frying the rice paper wrappers sizzles the starch, curling and crisping them into puffy crackers. I usually fry a batch of these whenever I deep-fry, because they make such an easy accompaniment… that's if they ever make it to the table. The great thing about both these ingredients is that once you've bought a pack, they can sit in your pantry forever.
Serves 4
500 g (1 lb 2 oz) broad beans (see Subs), podded
1 head of broccoli, chopped into small florets, stalk peeled and chopped into 8 mm (3/8 inch) discs
1 bunch of asparagus (see Subs), cut into 2 cm (3/4 inch) lengths
3 bundles of buckwheat soba noodles (270 g/ 9½ oz)
100 g (3½ oz) baby English spinach leaves, washed and dried
Tahini ginger miso dressing
2 tablespoons tamari or soy sauce
2 tablespoons rice wine vinegar
2 tablespoons sesame oil
1 tablespoon tahini or smooth peanut butter
1 tablespoon honey or soft brown sugar
1 tablespoon rice seasoning (shichimi togarashi or furikake; see Ingredient spotlight)
2 teaspoons miso paste
1/2 teaspoon wasabi paste
A good pinch of freshly ground black pepper
1 cm (1/2 inch) knob fresh ginger, peeled and finely grated
1 garlic clove, peeled and finely grated
Rice crisps (optional)
4 cups (1 litre) frying oil (I like grapeseed)
6 rice paper rounds rice seasoning, for sprinkling
To serve
1 ripe, creamy avocado, peeled and cut into cubes
1/4 bunch of coriander (cilantro), washed and roughly chopped
2 spring onions (scallions), thinly sliced rice seasoning, for sprinkling (optional)
Bring a large saucepan of well-salted water to the boil.
Add the broad beans and blanch until bright green and soft: 2–3 minutes if they're small, 3–4 minutes if larger. Scoop them out and refresh under a cold tap until cool enough to touch. Double-pod the broad beans into a bowl by splitting the skin with your fingernail and popping out the bright green flesh.
Bring the water back to the boil and blanch the broccoli for 3–4 minutes, until vibrant green. Scoop out, refresh under a cold tap, add to the broad beans and set aside. Bring the water back to the boil and blanch the asparagus for 2–3 minutes, until bright green. Scoop out and set this aside with the broccoli.
Bring the blanching water to the boil again. Add the buckwheat noodles, wait until they soften enough to submerge, then cook for 1 minute less than suggested by the packet instructions. Drain the noodles and dunk into iced water to stop them cooking.
Combine the dressing ingredients in a medium-sized bowl. Plonk the noodles into the dressing and stir to coat. These can be further refrigerated if you want them cold-cold, but I quite like them at room temperature.
If you are making the rice crisps, heat the frying oil to 200°C (400°F) in a medium-sized pan; this should take around 5 minutes on medium–low heat. The oil should be shimmering, and if you drop a little of the paper into the oil, it should frizz up instantly. Meanwhile, stack three rice paper sheets together, cut them in half, then in half again, and then cut each one in half again, until you have what look like pizza slices of rice paper. Briefly deep-fry in batches of five or six, fishing them out with tongs or a slotted spoon once they puff up and turn white, which will happen almost instantly. Drain on paper towel and sprinkle liberally with rice seasoning. These are best eaten right away, as they start to soften if left out. (If the thought of deep-frying the rice crisps is overwhelming, try microwaving them. Cut the rice paper rounds into triangles, place six of them on a plate and microwave for 1–1½ minutes, until crisp.)
When ready to serve, add the blanched veg and baby spinach leaves to the dressed noodles, tossing everything together until well coated. Taste for seasoning — an extra splash of soy is worth it if the salad needs a salty kick.
Scatter the avocado, coriander and spring onion on top and sprinkle with extra rice seasoning. Serve with the rice crisps on the side, if using.
Subs
Use green beans when broad beans aren't in season; blanch for 4–5 minutes. Instead of asparagus, use broccolini cut into 2 cm (3/4 inch) lengths and blanched for 2–3 minutes.

Ingredient spotlight: Rice seasoning
Rice seasoning is more of a sprinkle — like a Japanese dukkah, full of seeds and spices. Asian grocers sell different varieties, from nori-rich savoury–sweet furikake, to spicy shichimi togarashi ('seven peppers' or 'seven spices'). It's handy as a salad sprinkle, to quickly zhuzh up steamed rice, and even to shake over tempura. Once opened, I store my jar of rice seasoning in the fridge door for freshness.
My absolutely favourite way to use rice seasoning is sprinkled over deep-fried rice crisps for an easy, delicious snack. It's something I'll whip up a batch of whenever I deep-fry anything and the oil's still hot.
Images and text from The Joy of Better Cooking by Alice Zaslavsky, photography by Ben Dearnley. Murdoch Books RRP $49.99. Learn more at www.thejoyofbettercooking.com'