A big problem with an easy solution. Discover how to minimise waste in your business.
Food waste in households and the food industry
In Australia, we are lucky to experience a range of delicious food from all corners of the globe. Your food business, whether it is wholesome ready-made meals, a boutique local coffee cart, or a bustling deli is a valuable contributor to the wonderful community that food creates for us.
However, running your business means also opening your eyes to just how many food and perishable items are wasted in the food and hospitality industry. Some of it can't be helped, but a lot of it can. We provide below the number one way for you to reduce your environmental footprint, successfully lower your costs and reap the many benefits of minimising your food waste in your business.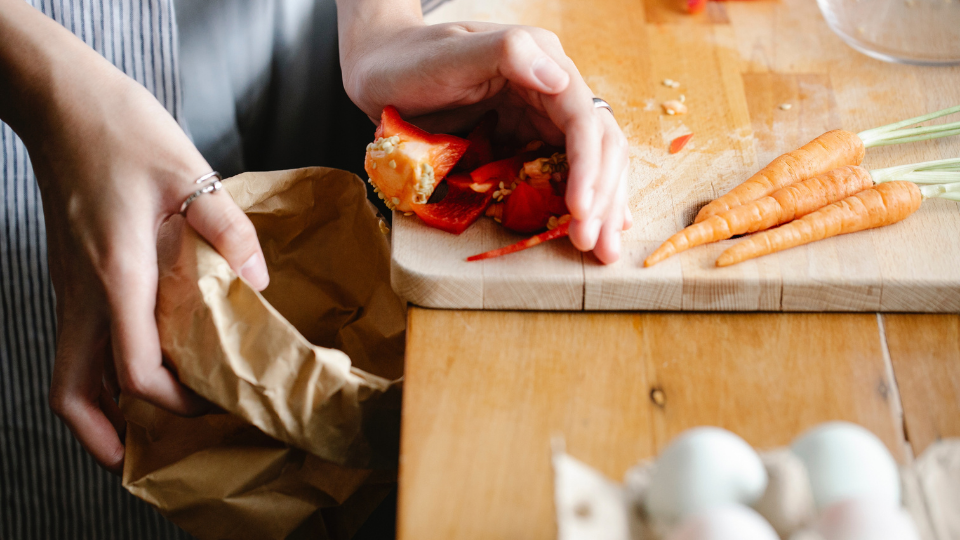 The current food waste situation in Australia
The 2020 Food Waste report showed that while we were making positive improvements in 2020, Australians are currently wasting 12.7% of their weekly grocery shop which equals to over $1000 per household, per year. Overall with COVID causing people to cook at home more, as well as try new recipes and food brands, food wastage is costing Australia $10.3 billion per year.
Surveyed Australians noted that the main reasons for food wastage in their household are because they are throwing out expired food that has gone off (35%), and they are not effectively planning weekly meals (22%).
Then we tackle the food and hospitality industry waste statistics, where legally organisations must be far more strict on the quality and useability of ingredients. It is calculated that each year, over 250,000 tonnes of food is thrown out by this sector. Much of this comes down to supply and demand for food businesses. Getting caught with not enough ingredients to produce a delicious meal means less revenue and potentially unhappy customers.
So, how can we fix this dilemma? For households, there is a clear need for better planned weekly meals, particularly for those busy households, and meals that are longer lasting or freezer-safe to minimise the throwing out of expired food.
For food businesses, it means going right back to the business model and the supply and demand processes in an effort to have better waste management and reduce costs. It means finding a smarter solution.
Food waste solutions: How to minimise food waste as a food business
These are several effective ways to begin minimising food waste in your business.
1. Report on your food business production
Proper analysis of your current food production, waste production, and stock control can immediately alert you if there is a serious food wastage problem. Record everything using a reliable reporting and analysis system;
How many meals do you make per week?
How much of your weekly ingredients list you are throwing out
Which weeks in the month do you have more customer demand
From this data, patterns begin to emerge and you can employ some effective methods to minimise food waste in your food business. You will also start to see just how much of your average weekly costs are quite literally going in the bin!
2. Predict food orders
Effectively predicting food orders is difficult without employing a useful business model like the batch model for your food business. By predicting how many orders to come in per week you will be able to purchase the exact amount of ingredients.
Here is where it gets tricky. To do this successfully, you need to be aware of just how much of each ingredient you use to make a meal. Of course, there are the elements you buy in bulk such as flour, sugar and other longer-lasting items. For fresh produce and protein (also the most expensive) it really is a guessing game.
It doesn't have to be a guessing game with Cookaborough. The advanced platform allows you to put in each ingredient amount and cost to give a specific cost breakdown for your weekly meals, based on how many orders have been received for that week. Say goodbye to throwing out costly leftover ingredients and hello to an insightful and environmental business model.

3. Adopting the batch model for your food business

How the batch model effectively works for a food business
The batch model incorporates made-to-order by using the same equipment to cook a batch of similar or identical food products. The batch model is the best solution for food waste solutions as it incorporates the above two ways to minimise food waste with the ability to closely report on your food and waste production as well as stock control. The batch model is also excellent for predicting food orders, particularly when using the Cookaborough platform to power your food business.
Batch production advantages are plentiful, and effectively tackle the food waste problem all cooking businesses face. Batch can assist in many other areas too, such as staffing, time, revenue growth, and predictability.
By going back and looking at your business model, you can assess whether the effective batch solution will work for you. The food business batch model is the number one way to reduce food waste, reduce costs and effectively grow your cooking business.
Discover more about Cookaborough's Clever batch model.
Cookaborough will help your business minimise waste and more
The Cookaborough platform was built to help ready-made meals businesses to flourish in any environment - lockdowns included! Reducing our environmental impact is a core element of why we have championed the batch business model for food businesses, but really overall, it just makes sense for ready-made meals businesses.
From key features like menu builders, delivery planners and food labels to powerful business reporting, online payments and marketing tools, you can power your food business in the best way.
Want to discuss how Cookaborough could help your food business? Get in contact with us to discover how our platform can help you eliminate your food wastage and transform your business.