Customer Love | Knowing and connecting with your customers
This three-part comprehensive guide will provide you with a collection of ideas to help you build and nurture your list of customers. Here in Part 1 we cover the basics of finding out where your current and potential customers live - both in real life and online - then making it easy for them to find you.
Who are your customers?
A healthy customer database is a list of customers who are reading your menu emails regularly and who order from you. Whether they order from every menu or less frequently it doesn't matter, as long as you have a nice mix of loyal, regular and occasional customers who are actively engaged with your business.
To build this customer list the first step is knowing what type of person is most likely to need or want your food. In marketing terms this is called a target audience - a specific group of people most likely to respond positively to your food and promotions.
Often deciding on and getting to know your target audience will include factors like location, age, income, lifestyle and so on. For example, if your business is looking to solve the dinner dilemma, there's a good chance you'll want to appeal to busy families in your local area.
Once you know your target audience you will understand their needs better, and you can then work on customising their experience to encourage an order and repeat orders. In part two we list some ideas on how to engage your target audience to build an actively engaged customer database but for now let's look at making it easy for them to find you.
Make it easy for customers to connect
When you set up your account a Kitchen link is created that makes it easy to share what you're doing with your target audience across your various marketing channels.
Using your link in social media
To make the most of your social media activity and to make it easy to convert followers into customers you can have your unique Kitchen link in your social media profiles, add it to relevant Facebook and Instagram stories and share it with any collaborating businesses so they can add it to their socials as well.
Check out a few examples of cooks and chefs using the Kitchen link in their socials:
Via Instagram : In your LinkInBio
Add a LinkInBio in your Instagram Account Settings. You can either have a single link, or a linktree (see below) that allows you to add multiple links.
.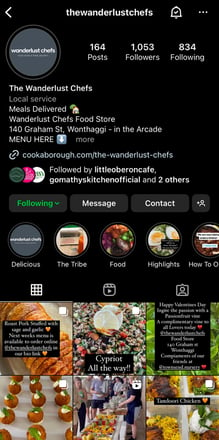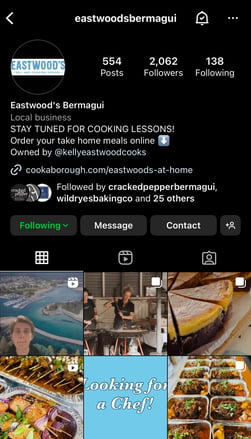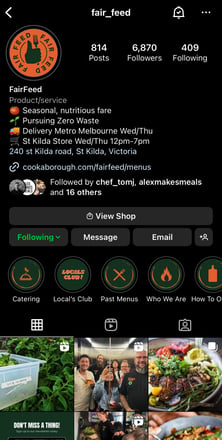 Via Instagram: Using Linktree
Linktree and other similar linking apps easily separate your offerings when you have multiple parts to your business. You can read more about how to create a Linktree account here.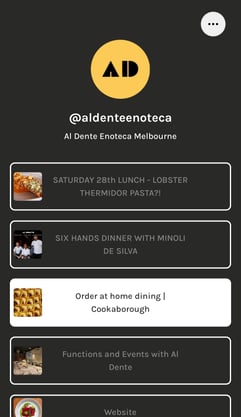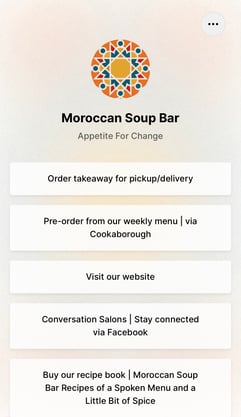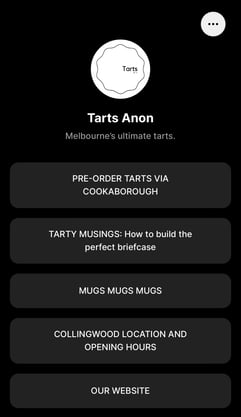 Via Facebook
Include your Kitchen link in your About section on Facebook. Facebook is a definite go-to for many people looking for solutions to challenges in their daily lives and also for local connections.
In your posts also put your Kitchen link in, and maybe link directly to the open menu, such as these two examples below:
Via TikTok / WhatsApp / Telegram
These are also great places to share your link. You get the idea - wherever you have a social presence online you can add your link!
For more detail on using your link in social media read our blog here.
Using your link on your website
If you have a website in addition to your Cookaborough Kitchen page, it's a good idea to include your Kitchen link on your website. Making it easy for people who land on your website to navigate to your menu will help new customers and ultimately, drive sales.
Check out a few great examples of cooks creating links from their website to their Kitchen page:
Dinner is Served - Eastwood's at Home
HOW: YOU CAN EDIT AND COPY YOUR UNIQUE KITCHEN LINK VIA YOUR SETTINGS PAGE. SELECT THE KITCHEN PAGE TAB AND SCROLL DOWN TO YOUR KITCHEN LINK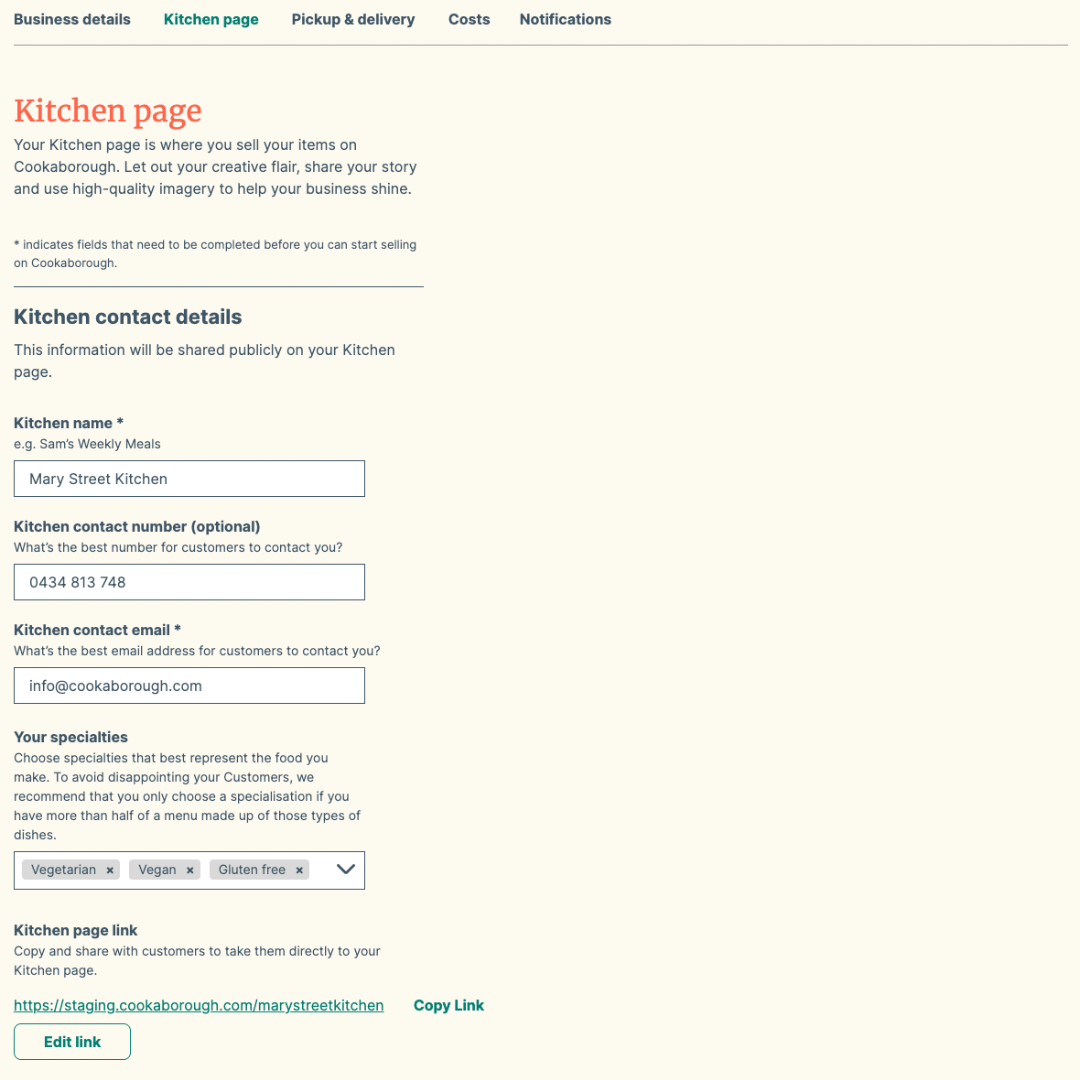 Using your link everywhere else
Use your link wherever you find customers - in a text message, sharing it with friends in WhatsApp or writing it down on a napkin! Basically your link is like a website address. Use it wherever you can! Read more about how to use your Kitchen link to drive sales here.
Join Facebook community groups
Facebook is full of highly active and engaged community groups; they are often area-specific and operate under titles like Port Melbourne Focus, Geelong Families or Newcastle Community Group. Being part of these online groups is a great way to build awareness of your business and to find support from within the local community.
Each group will have a clear set of posting rules, so it's important to know what you can and cannot post within the group. If you're not sure, ask the group administrator for guidance and permission.
If promotions are allowed, offering a first order promotion to members of the group to try your food can be an effective way to find new local customers. This is as simple as creating an introductory promotion offer and posting it within your message.
Remember being part of a community group is not just about promoting your business, the more active you are in the community the more support you will receive from the community. So, look for ways to participate, it might be donating meals to a local family in need or supporting the local school. It needs to be authentic and genuine to who you are.
For a more detailed look on how to promote your food business with Facebook groups, check out our resource guide here. Here's a quick reference of how to get started:
Go to

​​

facebook.com/pages/create





Add your business details. Include your business name and a short description all about you, the delicious food you make, and your delivery logistics.

→ Include a link to your Cookaborough profile here!


Select your category. Think 'food delivery service', 'home cook' plus the cuisine you serve.


Add some mouth-watering pictures of your food. Need help? Take a peek at our guide on taking stunning images of your food here.



Add a 'Call to Action'. Select to add the 'Start Order' button on your profile and link your Cookaborough profile so people can access your profile with one click.
Note: You need to have an existing personal Facebook profile to set up a Facebook page. If you are wanting to create a business account you can also link your Facebook and Instagram account which means posts can be duplicated across the platforms.
Read more about Facebook groups here.


Engage with your current customer list
If you have an existing list of customers that you have loaded or plan to load into your account, sending them an invitation asking if they would like to sign up to receive your menu emails is an easy way to build your email list.
Inviting customers to your Kitchen page from within Cookaborough:
From

Home page,

go to the

Customers

tab on the main Sidebar

Select the

Invites

tab

Select the

Create invite

button located in the top-right hand corner

Select

Preview Invite

and compose the invitation you want to send

Select

Send

and your invitation will be sent via email to all the people on your list with a button to take them directly to your Kitchen Page to sign up or your Menu if you have one open.
To add multiple customers, just use the +Add Row button.
TIP: IF YOU HAVE A LARGE LIST OF CONTACTS, PLEASE DROP US A LINE AT help@cookaborough.com AND WE CAN ASSIST YOU WITH A BULK UPLOAD.
A few ideas for the invitation text:
Make a personal connection - Tell your story and remind people that you're here to make their lives a little easier, tastier, healthy, etc.


What's on the menu - Explain what type of food is on the menu


How it works - Inform them on how your business works and when your menu opens, closes, and details on pick up and delivery.
Once you've composed your invitation, it's a matter of entering the names and email addresses of the people on your list and sending the invites as above.
Once your invitations have been sent, you can track who has accepted, declined, or not taken any action. At a future time, you also have the option to Edit & resend the invitation to those customers who take no initial action.
When sending or re-sending invitations, consider incentivising customers to encourage them to place an order. Read more about incentivising customers here.
Check out some great examples of customer invitations below:
Turn followers into customers
There will be people who follow you on your social channels who are not on your customer database. Turning these people into your customers is another opportunity for your business.
To engage with these followers, we suggest designing and scheduling Instagram and/or Facebook posts that announce the opening and closing of your menus. Over time with a consistent approach, you'll find some of these people will transition from being social media followers to also being customers on your database should their circumstances allow for it.
Also keep in mind it will not only help convert your followers into customers, it is also a handy way to remind your existing customers that your menu is open and what's on it, in case they have missed your Menu open email.
Our top posting tips:
Tag your posts - tag @Cookaborough in your posts so we can share your posts on our socials too.
Create a call to action - Add an 'order now' link directed to your Kitchen page into social media stories – making it easy for customers to take action.
Shine a spotlight - If you're receiving compliments from customers, turn these into social posts. Letting your followers know about the 'love' you've received can be highly effective.
Great examples:
TIP: To learn more about how to promote your business and menu using social media, check out our resource guide here.
Engage your local area for potential customer clusters
Find a local business or organisation in your local area where you have the potential to build a cluster of customers, which is four or more customers based out of a single location ordering from you regularly.
Approach businesses, buildings, or organisations with an offer to make a 'cluster' delivery. The offer could include no delivery fees, or a specific Coupon code to their group, so that people in the group receive a discount every time they order.
Consider the day of week and time of day for delivery. You want it to work within your weekly rhythm, but also be mindful of the suitability of your schedule with the group.
The benefit of this approach is two-fold: first you'll have the efficiency of a single delivery with multiple orders and secondly people will see your customers receiving their orders and they'll also want to give it a try.
For example, it might be a daycare centre or after school care where busy parents can pick up their order once a week at the same time they're collecting their children, or an office where workers receive their order in the late afternoon before heading home. Other places could include golf courses, community centres, RSLs, aged care centres.
Include a Pick up location or a Delivery zone specific to the organisation on your menu as a good way to manage these clusters. To learn more about how to set up pick up locations and delivery zones, read our guide here
See below on collateral for these groups to enhance your visibility within the location.
Traditional marketing collateral
Creating printed materials - "collateral" - for use in different situations has proven to be an effective way for cooks to find new customers. It takes some effort to design and produce the materials and work out where they suit best, but it is generally a worthwhile investment.
Each piece of collateral should have a clear 'call-to-action' and be designed to make it easy for people to know what's being offered and how to sign up, so including your unique QR code that will take the customer to your Kitchen page About and to your Menu is a must.
A few ideas:
In-store counter units - If you have a retail store a well-placed counter unit or poster with a QR code can be an effective way to attract customers.
Be sure to keep clean and simple and include 'call-to-action' - e.g scan the QR code to view Menu.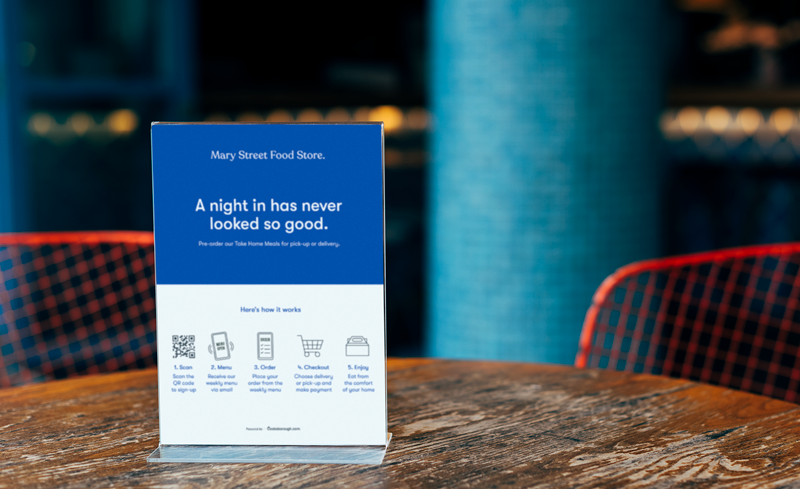 You may even have friendly suppliers willing to display a poster for you which is another way to broaden your reach.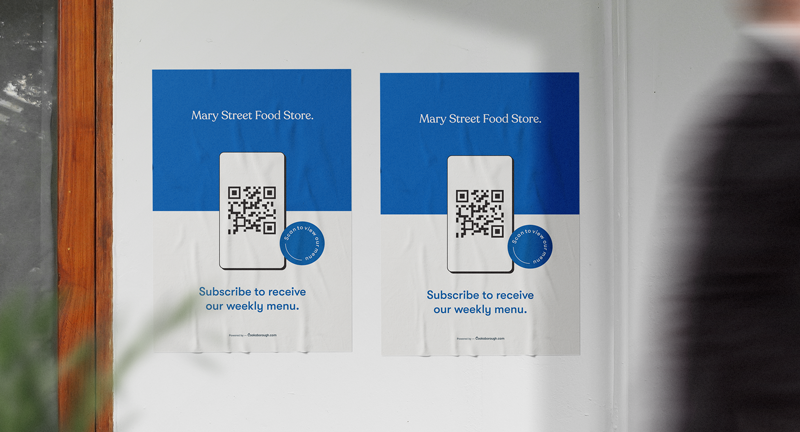 Postcard flyers - Placing 'share the love' flyers with a special offer for new customers into the orders of your loyal and regular customers inviting them to pass the flyer onto a local friend or neighbour also works well. Always-on Referral codes can be set up for your customers to incentivise them to share.
You can also include an offer for new customers in these flyers, which is easy to do with the Coupon code feature so you can track its success. Nothing beats the strength of word-of-mouth and if the referrals are local, you create delivery efficiency by having multiple orders in a concentrated area.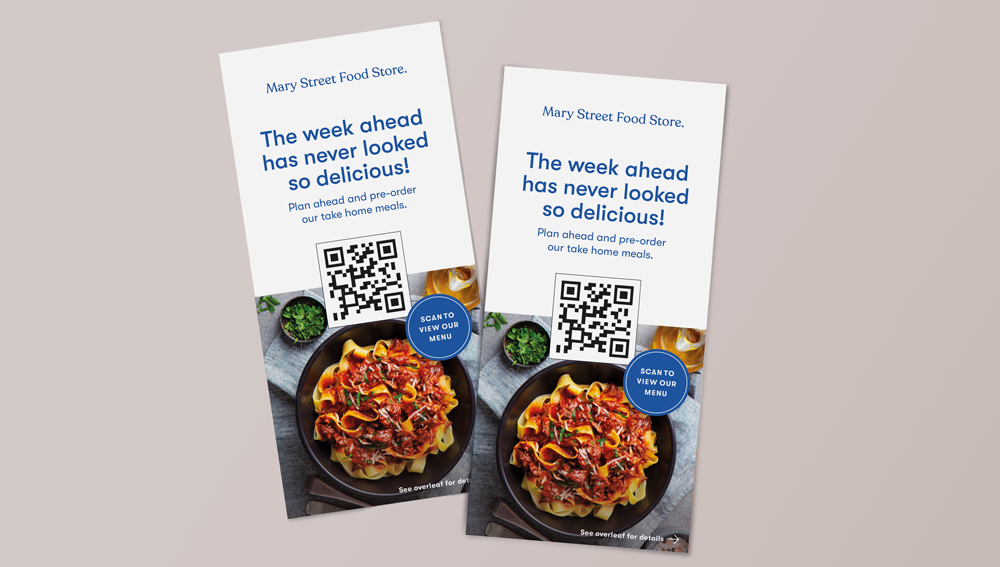 Fridge magnet - Make it easy for your existing customers to place their orders. Create a fridge magnet with your unique QR code so customers are directed straight to your menu to place their orders. This may require some initial coordination so you're not giving the same customers a magnet each week. We recommend having a system for placing a magnet into all 'first time' customer orders with a simple note on how to use it.
We can help with Collateral, fill out our collateral order form to get your collateral sorted.

Let us know how you go
This guide is dedicated to ideas and suggestions we've seen work with great effect. We would love to hear what works for you and if you have your own ideas that have been proven to work for you and would like to share them. Our team at help@cookaborough.com would love to hear from you.
And as always, if you need additional support, feel free to contact our team for help.