Customer Love | Excite, Incentivise and Inspire your customers
This three-part comprehensive guide will provide you with a collection of ideas to help you build and nurture your list of customers. In Part 2 of this guide we share a few ideas on how to incentivise customers to order from your menu.
Incentivise new customers

Activating a promotion and then sharing it across your various communication channels can be a great way to attract new customers as well as actively engage existing customers.

For first-time customers a promotion might be a first time order discount, or a discount if they give you some feedback on their experience which is both useful for you in designing your menus but also for your marketing should you wish to share it.

As well as attracting new customers, activating promotions can also be a good way to keep existing customers engaged and active. An incentive for existing customers to order from a special menu or to Refer-A-Friend or adding a free menu item for regular customers might be a nice way to encourage a loyal connection.

When communicating the promotion across Instagram remember the visual tile has more impact than the text. For example, if it's a 10% discount on first orders or a free sticky date pudding with every order over $80 make it clear in the visual of the post to stop people in their tracks and get their attention.

Facebook and Facebook groups can be a little less image-driven but visuals are always a bonus and including the link in Stories is now possible so that's a great addition.

This is a great example of a promotion Free bounty bar
Developing a calendar of promotions and activating them periodically has proved to be a highly effective way for finding new customers and reactivating lapsed customers.

For more on creating a promotion please view our Activating Promotions on Cookaborough in our Food for Thought blog.
Leverage moments to build your customer database
Food moments on the calendar represent a great opportunity to find new customers. When people come together for special moments, food is often the centrepiece to the moment, and generally people do not want to spend days preparing food for the occasion, instead they'll be looking for ways to cater for these moments.

Creating special menus that make moments easy for people can achieve great sales results and also introduce new customers to your regular menus.

Not all moments will be relevant to your business. We suggest mapping a calendar of activity around key moments so you can plan which ones you want to be part of.
Our top picks:
4 x times a year = School Holidays and Back to School

February = Lunar New Year

March/April = Easter, Ramadan, Passover

May = Mother's Day

July = Bastille Day

September = Father's Day, Rosh Hashanah

October = Sukkot, Shemini Atzeret & Simchat Torah

December = Christmas, Hannukah
For more on moments please read our Making the most of moments in our Food for Thought blog.

Felicity used Mother's Day to connect customers with the inspiration behind a particular recipe - her mother!
Direct Messaging
Using the Messages function is a great way to reach different groups of customers. You can first create groups and then message just those groups with ways to engage them. Some ideas which are easy to implement include:

New customers - send a welcome and a thank you

Unsubscribes - if they have previously ordered a "sorry to see you go!" with an incentive for them giving you feedback will demystify these unsubscribes.

Repeat orders - keep loyal customers engaged with a direct personal message to them

Lapsed customers - offer an incentive to come back

Never ordered - offer an incentive to try
See our Food for Thought blog on Promotions to learn more about this useful Messaging tool.
In-store marketing collateral and promotions in-store

If you have a prominent venue, it is worth ensuring you maximise the opportunity to showcase your at-home meals in store. In addition to the printed collateral that we talked about in Part 1 of this guide. This could be via in-store signage; printouts that can be offered with receipts; promotions such as coupon codes when over a certain amount is spent in store. Our design team is available to help so please get in touch via your account manager or help@cookaborough.com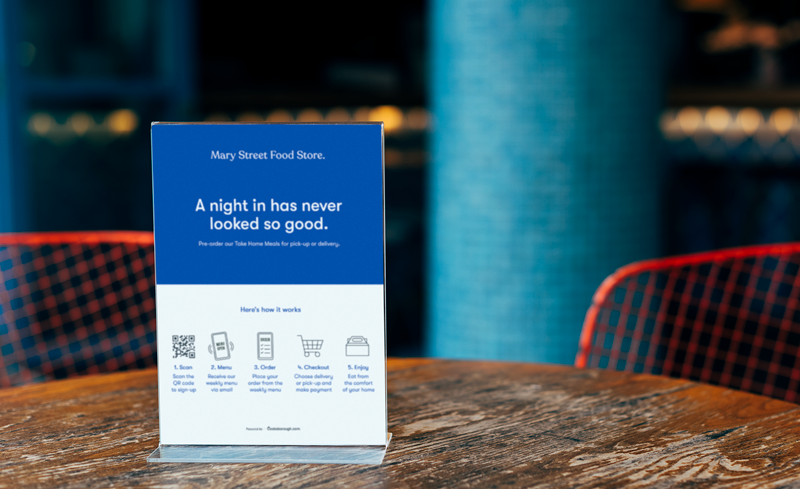 Social media posts: Mix it up
Try the occasional out-of-the-box social media post to give your customers insights into you or your business and how you run it. Maybe you want to educate them about something they may not know about your menu or maybe you want to share pictures of your kitchen or the people who are part of your business and their stories.

Here's an example of Ally posting an idea suggesting her customers can use a gift voucher to order a meal as a gift for someone else.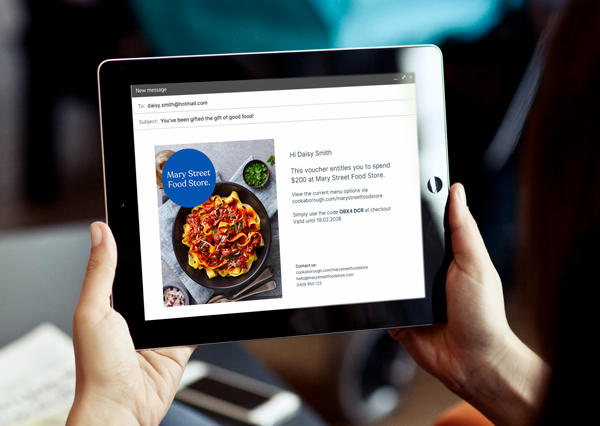 TIPS - A couple of tips to keep in mind when trying out any of the ideas in this guide
Tip #1: Keep building
Some customers will stay a long time but for a range of reasons, others will unsubscribe from your database or simply cease to be actively engaged. Don't take it personally, it's just the nature of things - you can't be everything to everyone all the time.

To temper the disappointment of losing a customer, it's good to know how you're going to continue to find new customers and have a plan ready to go on how to find them.

This doesn't mean you're working hard to find new customers every day, it just means you consistently build awareness and strengthen connection to your customers through initiatives that you've identified work for your business.

This approach reduces the long term impact of accumulated unsubscribed and inactive customers. It also enables steady and manageable sales growth and it removes the stress of having to undertake urgent actions to acquire new customers.
Tip #2: Test
What works for one business may not necessarily work for you, so be prepared to try different things, and wait a few weeks to see if there's a slight improvement. Be wary of expecting overnight results instead be prepared to persevere - while sometimes growth can be fast, often it can take time to see results of something you do - patience and persistence.

Once you discover what works for your business and customers you'll have developed a playbook of ideas that you can confidently rely on.
Let us know how you go
This guide is dedicated to ideas and suggestions we've seen work with great effect. We would love to hear what works for you and if you have your own ideas that have been proven to work for you and would like to share them. Our team at help@cookaborough.com would love to hear from you.

And as always, if you need additional support, feel free to contact our team for help.