How a curry club became a successful food business... BlueBoy Thai
Get to know Chef, Rohan. Running BlueBoy Thai in Melbourne

BlueBoy Thai operates in the heart of Melbourne. It started with owner Rohan selling food from home to family and friends, and in just a short amount of time, he was selling food from home to the general public, delivering delicious ready-made Thai meals straight to his customers.

Tell us a bit about your backstory and your journey to starting BlueBoy Thai?



My older brother first taught me to cook a stir fry when I was about 18 years old. This first lesson grew into a love for cooking and a passion for Thai food which led me to start a chef's apprenticeship after 10 years working in animation. After traveling to Thailand, I quickly discovered that what we commonly receive at restaurants in Australia is a world away from what the cuisine can be. Further food trips to Thailand, experience and extensive study and research have converged with BlueBoy Thai, which was an idea that initially grew out of lockdowns during covid restrictions in Melbourne. What started as cooking and delivering curry for a few close friends, grew into a 'curry club' using Facebook messenger and now to the general public with Cookaborough. BlueBoy's goal is to share authentic Thai cuisine using quality ingredients sourced locally.
"Authenticity can be hard to achieve in Melbourne, but if our food evokes a memory of traveling, transports someone to a different place or is just downright delicious, we're on the right track."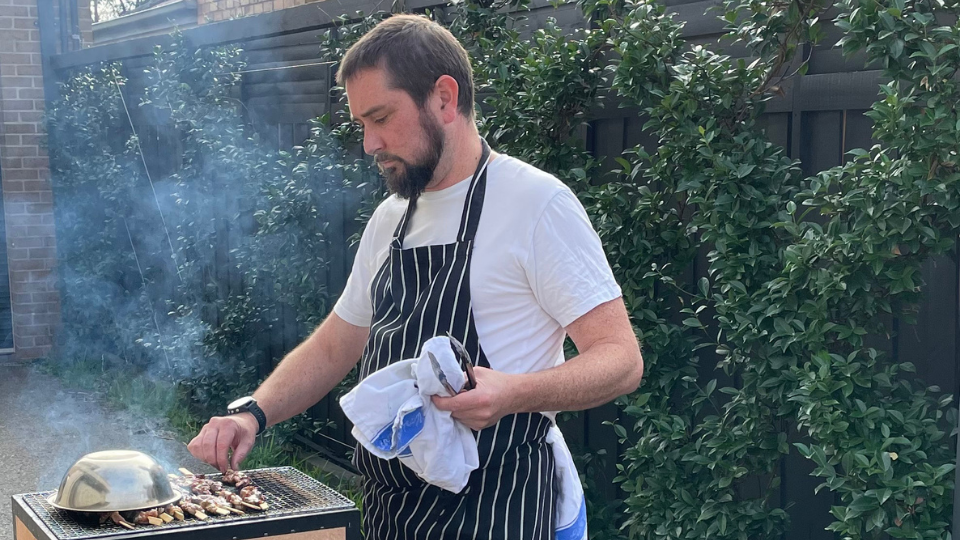 Rohan, BlueBoy Thai
What's the thing you love most about BlueBoy Thai?
The big thing for me is being able to share lesser known dishes with everyone - dishes from the north of Thailand, sour curries or salads with chilli and watermelon. Dishes like these provide something a little different to what people might expect from Thai cuisine. BlueBoy Thai has also given me the chance to spend more time with my family, which didn't always happen when I was working in restaurants.
What do your customers have to say about BlueBoy Thai?



"OMG. Fantastic fresh, flavoursome and absolutely delicious." - Michelle

"Outstanding as always" - Ben

"That was incredible. I will fight to the death for the leftovers." - Elyse

"It legitimately tastes like Thailand." - Tilly (age 13)
What is your most popular menu item?
The most popular dish has been Khao Soi Gai is a curried noodle soup with chicken commonly eaten in Chiang Mai in the north of Thailand - it is a bit of fun to put together with the customer seasoning it to their liking with chilli jam and a squeeze of lime. This is closely followed by well known curries such as Massaman or Panaeng. I rotate the menu and ingredients quite often so what might be a chicken curry one week gets re-invented as a pork curry with a different spice blend the week after.

Is there anything else you'd like to share?
A big thank you to everybody who has ordered and taken an interest so far. I'm pretty lucky that I get to cook and share my favourite food for everyone each week.
BlueBoy Thai offers a weekly option for customers to enjoy high end, restaurant-quality Thai cuisine in the comfort of their own home powered by Cookaborough. You can view the menu and order yours below.